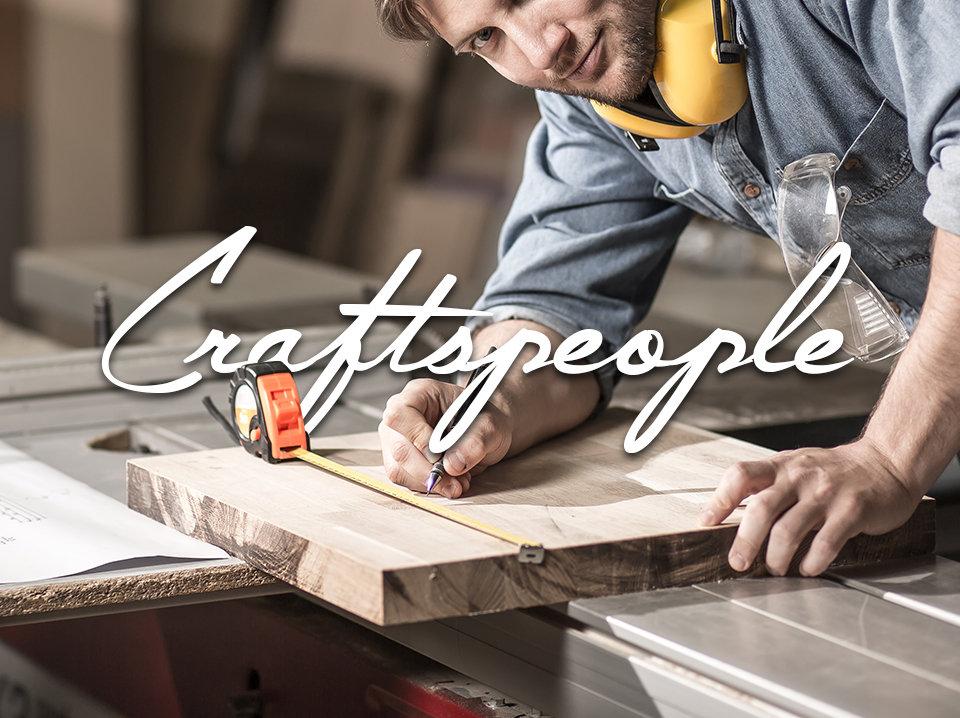 Wisconsin Kitchen Mart is Staffed with Skilled Craftspeople
Wisconsin's Expert Home Remodeling Artisans Delivering Faster Construction Results
Wisconsin Kitchen Mart employs our own craftspeople, though we occasionally bring in subcontractors when our in-house crews are operating at full capacity. Our remodeling team includes everyone from cabinet carpenters to floor installers. These skilled professionals are the expert's expert in their craft, dedicated to providing the very best workmanship when installing your luxury kitchen's custom features. We sometimes hire subcontractors to assist with certain trade work, typically plumbing, electrical work, and tile setting to ensure you get the absolute best service.
Employing skilled in-house tradespeople lets us quote more accurately and provide our clients with the best price for the best workmanship possible in the greater Milwaukee market. With our all-inclusive pricing, there are no hidden fees or extra costs for the services provided by our craftsmen. Up front pricing keeps everything simple, letting you focus on the fun part – getting exactly what you want in your new custom kitchen.
Wisconsin Kitchen Mart craftspeople include:

CARPENTERS
"Measure twice, cut once" is the mantra for Wisconsin Kitchen Mart carpenters. Our in-house finish carpenters handcraft beautiful cabinets, doors, and dining room tables custom designed to fit perfectly into your design concept. Our high-end Plato, Hampton, and Greenfield lines imbue a traditional elegance and modern efficiency your friends and family will envy. 

PLUMBERS
WKM's certified plumbers flawlessly install top of the line faucets, sinks, disposals and dishwashers in remodeled bathrooms and kitchens. You'll get the fixture design look you want, with perfect functionality to match.

ELECTRICIANS
You want the latest in high-tech appliances, and our certified electricians have the skills to set them up for effortless use. No job is done until everything is up to code, working as designed and ready for your input. Our electricians power the future of your kitchen.

DRYWALLERS
Seamless drywall work and custom texturing you have to touch – your newly remodeled kitchen or bath will take on a whole different dimension when our drywall experts are done plying their trade. Drywall is your design canvas, and our experts provide the perfect framework to highlight the elegance of your kitchen design concept.

FLOOR INSTALLERS
Whether your design taste favors the luxurious natural dark wood of an East Asian yoga studio, or a honey-colored plank to lighten up your craftsman design, our flooring specialists have the materials and the mastery to satisfy. Come to Wisconsin Kitchen Mart for the solid wood flooring and custom tile working skills needed to fully transform your kitchen or bathroom.

TILE SETTERS
Cutting ceramic tile is an art, and our tile setters are regular Rembrandts with the saw and square. Whether you're looking for a sleek and minimalistic tile floor or are dreaming of a Mediterranean villa, our tile setters are experienced enough to give you the floor, wall, backsplash or countertop tile design you want.
Care, Craft, and Communication for your Luxury Remodel
Every kitchen remodeling project our tradespeople handle is treated with incredible care—a true hallmark of Wisconsin Kitchen Mart service. When we arrive at your home, we treat it as we would our own. Our courteous service is beyond the pale—you won't find our level of care anywhere else.
Working with our Design Services team, the craftspeople of Wisconsin Kitchen Mart are always on the lookout for ways to improve the appearance of your home. From the in-store consultation to installation, our unmatched attention to detail means your kitchen or bathroom will be both beautiful and fully functional for years to come.